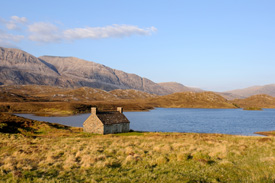 Our Cottage
The Scottish Cottage was primarily the Home structure of the Scottish Croft. The Croft was a small parcel of land rented to the tenant along with a cottage that allowed a family to grow food and have minimal livestock. A certain amount of that family's production was used as payment for rent to the owner of the estate.

These small cottages can be seen scattered all across the highlands of Scotland and Ireland, usually abandoned but still standing as an eyeglass into the past lives of the lower class.

Our Scottish Cottage has wheels! Built on a flat bed trailer in the summer of 2011, this pioneering project was the first step in bringing great Celtic food to the public.

Our Cottage is a mobile kitchen and we invite you to come see us and experience the vibes of Scotland and Ireland through our great food, music and hospitality!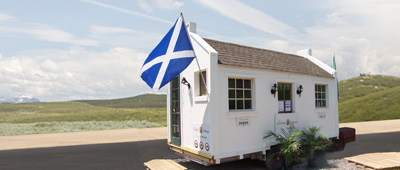 Click on an image below to see larger views: